X-rays, although not required, are often taken on most patients to give the doctor an inside look at what is going on with the bone structure of the entire spine and surrounding skeletal structure. This gives an objective and clinical basis to form the proper diagnosis that will get you well the quickest. From this x-ray, the doctor can tell your current spine angles as well as any potential further issues including the potential for additional information such as an MRI.
Our office uses a digital xray unit. This method uses an electronic sensor instead of X-ray film. An electronic image is taken and stored in a computer. This image can be viewed on a computer screen. The doctor can easily make copies on a CD and transfer the images to other doctors working on your case to ensure your healthcare team is at its best when treating you. Also, less radiation is needed to make an image with digital radiography than with standard X-rays.
After the X-rays and exam findings are reviewed by the doctor and staff, we will show you on YOUR Xrays what is wrong, why you have pain or symptoms, and what we will do to correct the problem. The doctor will answer any and all questions about your condition at what we call a report of findings. We believe that your understanding your condition is just as important as treating it.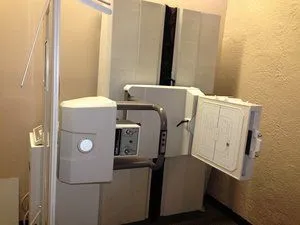 Here is an image of our Xray unit. It also can be turned to take Xrays of legs, arms, hands, feet, toes, knees, elbows, and other joints.